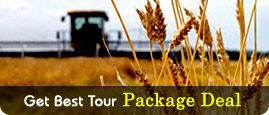 Adventure Tours India
| | | | |
| --- | --- | --- | --- |
| | | | |
| | Biking Tours | | Paragliding |
| | Skiing | | Safari Tours |
| | Water Rafting | | Trekking Tours |
| | Camel Safari | | |
| | | | |
Travel Destinations Guide
Adventure Thrills

of Jammu and Kashmir
Back
The endless scope of adventure tourism in India is largely because of its diverse topography and climate. On land and water, under water and in the air, you can enjoy whatsoever form of adventure in India you want. It is one opportunity for you to leave all inhibitions behind and just let yourself go. The mountainous regions offer umpteen scope for mountaineering, rock climbing, trekking, skiing, skating, mount biking and safaris while the rushing river from these mountains are just perfect for river rafting, canoeing and kayaking. The oceans are not behind in any manner as well. The vast and deep expanse of water provide tremendous opportunity for adventure sports in form of diving and snorkelling.

The forest and the desert region have their own distinct place in providing scope for adventure tourism in India. You can enjoy animal safari, jeep safari, bird watching, wild camp, wildlife safari and jungle trail in the forest region while jeep safari and camel safari are the most favoured adventure sports in the desert region. After all this, if you think the list of adventure sports in India has ended, think again. There is still much left in form of paragliding, hand gliding, hot air ballooning, etc.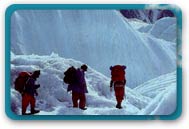 Mountaineering

There are several mountain ranges in the state of Jammu & Kashmir. Among them are Pir Panjal, Himalayas, Zanskar, Ladakh and Karakoram. Climbing in these Himalayas can be very invigorating. An expedition can take a month, Srinagar to Srinagar. Rich in flora and fauna, the summits of most peaks are a spine-tingling experience with views of the neighboring countries of Pakistan and Tibet.
One can climb the peaks of Kolahoi(5,425 m) and Harmukh (5,148 m), quickly making an alpine ascent. Similarly peaks in the Kishtwar region are not too high but offer technically complicated climbing with many challenging faces and ridges. The popular peaks are Sickle Moon 6,575 m ,Riger 6,001m, Brammah-I 6,416m,Crooked Finger 5,630m, Arjuna 6,230m, Katori 6,138m and Flat Top 6,100m.
In the Zanskar region peaks are located at the head of the Shafat glacier and include the famous peaks of Nun 7,135m and Kun 7,077m. Around these areWhite Needle 6,500m, Pinacle 6,930m and Z-1 6,400m. The 'Z' series also cluster around the Drang Drung glacier which is visible from the Pensita. In the Ladakh region are Stok Kangri 6,153m, Parcha Kangri 6,065m and Kanglcha 6,400m.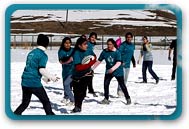 Winter Sports

The first fall of snow blankets the highlands and transforms the winter wonderland into the country's premier arena for action-packed skiing. Gulmarg has world-class ski slopes varying between 8,700 and 10,500 feet, the highest in India. The Gulmarg ski and chair lifts provide basic utilitarian facilities with a simple link-up for beginners. The high altitude skiers have to make their own way up to invigorating heights. Gulmarg's ski-shop has professional equipment imported from Australia and France, which can also be hired for temporary use. Facilities for skiing at Pahalgam are being developed and work on an institute of mountaineering and winter sports is already underway. Heli-skiing is also being introduced.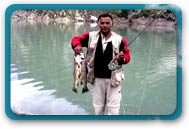 Fishing

Kashmir has rightly been called an angler's paradise, with a network of rivers and streams as well as high altitude lakes all abounding in trout, both brown and rainbow. Trout fishing in Kashmir is far cheaper than it is in any other part of the world. And most importantly, the Department of Fisheries, which controls angling in the valley, works hard to ensure that there is no depletion of stock by indiscriminate fishing, which means that you can revel in angling in ideal conditions.

Kashmir's fabled natural beauty needs no introduction. Crisscrossing the state are the well-known Sind and Lidder rivers and their tributaries, with a silvery network of smaller rivers and streams.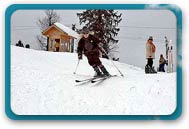 Skiing In J&K - As Good As It Gets

In the world, the number of Skiing resorts are very limited as the sport requires utterly flawless facilities and perfect landscapes. India is not unfamiliar with skiing, Gulmarg in Jammu and Kashmir is the best place to indulge in skiing adventure sports. In fact if one talks about skiing in J&k, it is only about Gulmarg as it has one of the most renowned skiing resort in Asia, when it comes to facilities and surrounding ecstasies. It also has the distinction of being the highest lift served resort in the world. Gulmarg is a great place for total beginners. They can learn to ski on the two Poma ski-lifts on the snow covered golf course. There are slopes that are apt for people with all levels of skills. You will see even young kids skiing on relatively easier slopes using a wooden board and professionals swarming on tougher looking tracks. Gulmarg was also the host to the first winter games in the year 1998.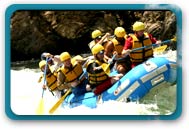 River Rafting

The challenge of holding your balance in the midst of speedy water is what river rafting is all about. And India, with a large network of rivers, is the place to be if you wish to enjoy the thrills of rafting. Originating from the great heights of the mountains, especially the great Himalayas, these rivers speed down in a way that makes you feel as if they are in a hurry to reach the plains and enjoy a long overdue freedom. Enroute they whirl, froth, foam and crash over rocky gorges and boulders. They make your raft wobble and wet you with an icy splash in an attempt to divert your attention.

In brief, the rivers in India exude every bit of their untamed qualities and challenge you to overpower them. Also, they put to test your strength, both physical and mental, and it is in this that the whole excitement of rafting lies.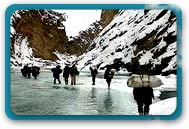 Trekking

Kashmir has attracted lovers of nature since ages and has proved to be a paradise for the trekkers. Some of the popular trails for trekking includes the trail to the Amarnath Shrine. The long trek from the Ferozepur Nala to Danwas, Tejjan to Samaidan is one of the most enjoyable walks. For all those who are interested in taking up trekking in the Pir Panjal ranges, Gulmarg is an important trekking base. Ladakh and Zanskar are also very popular destinations of trek lovers. Withal, Kashmir valley is repository for trekkers, as there are a vast areas yet to be explored.

Gulmarg makes an excellent base for trekking in the northern Pir Panjal Range. Towards the north one can see the Nanga Parbat, while Khilanmarg, lies 1,500 feet above Gulmarg, lies in the west. The Pir Panjal Range, are as steep as the Himalayas. If you are planning to take a walk along the Ferozepur Nala and beyond to the hamlets of Danwas, Tejjan, and to Samaidan, make sure you accompany a porter, because the intesection in the trails, are sure to make baffle you and you might lose your way. The Apharwat Peak, 13,592-feet high, is in the south westerly region of Gulmarg, is very near the line of control, where India borders with Pakistan.
Back