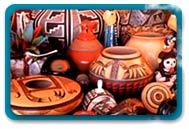 The traditional Gujarati's have safeguarded their rich cultural heritage for centuries, which is very well exhibited by the art and crafts of the region. The major handicrafts works are Calico prints by Chhipas and Bhavsars, Patola weaving by Salvis, Brocade and Jari weaving by Khatris, Copper-smithly by Kansaras, Pottery by Kumbhars, Carpentry by Suthars, Black-smithly by Luhars, Gold-smithly by Sonis and Leather work by Mochis. We present certain facets of the Handicrafts of Gujarat.



Patola

The most important work of handicrafts of Gujarat happen to be the Patola silk fabric which is printed upon thoroughly with calculated geometric patterns with silk thread and looks extremely elegant. A work of block printing, most amazingly the designs appear in both sides of the fabric thereby giving it a beautiful effect and finishing.



Bandhej : The tie-and-dye fabric of Jamnagar, Mandavi and Bhuj are famous for their intricate designs and patterns which are used in wedding outfits known as gharchola odhnis and also sarees.



Jari : The principal jari products are made of real gold and silver threads or imitation gold and silver threads as substitutes. The major patterns are chalak, salaiya, kangri, tikki, ring and katori. The major manufacturing centre of Jari is Surat.



Toran : It is a heavily decorated and embroidered decoration hung over the entrance to homes and is considered a symbol of warm welcome.



Wood Carving : Exquisite wood carvings can be observed in the temples, havelis (mansions) and many houses in various parts of Gujarat. The major centres of wood carvings are Visnagar, Vadodars, Ahmedabad, Mahuva and Billimora. Sandalwood boxes from Surat are especially sought after.



Jewellery : Jewellery making is an art of the highest antiquity. The famous forms of jewellery making are filgree work, open wire work, carving etc. Enameling is another noteworthy artistic craft. The Silver craft of Saurashtra and Kutch is quite well known. Mention-worthy articles of silver are Attardani, Gulabdani, Vases, Trays, Jewellery box, Powder boxes etc.



Lacquer Work : Saurashtra and Sankhed in the Vadodara district are well known for their lacquer work. Some of the articles of lacquer work are toys, stands, parts of bedstands, cradles, low chairs etc. Mahuva in Bhavnagar district and Idar in Sabarkantha district are known for the manufacture of wooden lacquer toys.



Dyeing industry : Earlier, designs were printed on fabrics with the juices extracted out of crushed leaves, plants and flowers and was termed as vegetable dye. The Bandhni art is another favorite among the handicrafts in Gujarat, and is a tie and dye designing process, where the cloth has to be tied up in parts by strings carefully and dipped in colors to give the fabric a beautiful design when untied and dyed.



Cloth Printing : Cloth printing is created with the help of blocks and screens. Chundadi, Patola Plain Gala, Lehria, Bandhani, Pomcha, Nagaria are some of the exclusive designs to be found on sarees, dress materials, household products like home linen and showpieces.



Inlay Work : Ivory and sandalwood are used as base for inlay works and then intricate designs are carved into bangles to give them an elegant look. Lovely agates are thoroughly processed and carefully laid into channels etched on the basic materials.



Dhurries : Dhurries, carpets, blankets and rugs are still woven on primitive pit looms in the villages of Kutch. The artisans weave the designs with their hands and work on the machines operated by foot pedals. These carpets are known for their beautiful patterns, contrasting color schemes and intricate weaving. The durries available here are made from wool, goat hair and cotton. As a result, handloom weaving is an important occupation in villages, situated on the Ahmedabad - Bhavnagar highway.

The state garment industry of Gujarat is one of the most prosperous ones in India. It provides a wide variety to the buyers. Some of the popular dress items of the industry are Salwars, Kurtas, Ghaghras, Cholis, Odhanis, Skirts and Jackets. All of these are produced from authentic hand block-printed material, creatively embellished with appliqué patterns and embroidery. Apart from this, Sarees are an all time specialty of the region. There are a number of weaving styles practiced in the state, popular the world over. The traditional garments are collected from the villages, where the actual craft of hand weaving is practiced.



Brocade : Brocade is a distinctive weaving style of Gujarat. The technique makes use of an extra weft pattern, which has raised the art to new heights. To add to the luster of the fabric, gold thread is worked in the twill weave. This reminds of the weave of the hangings of the yore, exhibited in Gujarat museum. Brocades, with an illusion of inlay work on fabric, were first woven in Gujarat. The main centers of brocade weaving are Jamnagar, Ahmedabad, Mehsana and Surat.

Here, silk-satin cloth is used for the Brocade while color is used for the borders. The traditional patterns which adorn the Brocade sarees include floral sprays, stylized shrubs, mango as a motif and a circular coin known as an asharfi. Other garment designs popular amongst the buyers are intricate constellation pattern, animals, fruits, dancing figures, peacocks, women holding fans and different types of lotus.



Tanchoi : Tanchoi is another weaving style in Gujarat. This weaving technique changes the texture of the fabric. The base material used in this technique is satin. An extra weave float is merged into the fabric. The process is simple yet ingenious. It was introduced by Chinese weavers in Surat. Later, the Parsi community used it extensively. The technique is employed to weave sarees as well as dress material in silk.



Gharchola and Panetar : Another famous weaving style of the state includes Gharchola and Panetar. Panetar are Gujarati sarees with satin weave. You can also find them in Gajji silk with red borders. Another popular saree of the region is Gharchola. These are traditional Hindu and Jain wedding sarees, made of silk. For such an auspicious occasion, the number of squares in the saree is kept in the multiples of 9, 12 or 52. Cambay is known for these two weaving styles. Here, the sarees are first woven with silk and then with gold and silver threads. They are then tie dyed or block printed.